From whence does the added alcohol come?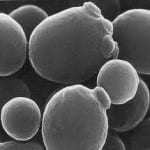 In recent years, the line between junmai-types vs. non-junnmai-types divide seems to be strengthening, in many senses. One such sense is sake style. Brewers that focus on junmai seem, at least to me, to be making the richer and fuller styles that junmai types can be, and those that make non-junmai, i.e. added-added alcohol types, seem to be making lighter, more aromatic and seamless sake styles that added alcohol affords.
While there is a lot of information out there on these two divisions of the sake market, here is a semi-brief synopsis. About 80 percent of all sake has pure distilled alcohol added to it just after fermentation. Water is later added to bring the alcohol back down, so it is not really fortified. When alcohol is not added the term junmai is put on the label.
So junmai-shu, junmai ginjo-shu and junmai daiginjo-shu are the three premium types of rice-only sake. Honjozo-shu, ginjo-shu and daiginjgo-shu are the three types of added alcohol premium sake. For the 65 percent of the market that is non-premium sake, this addition of alcohol done for economic reasons. For the 15 percent of the market that is premium and non-junmai (honjozo, ginjo-shu and daiginjgo-shu), this added alcohol is done for good technical reasons: it helps extract flavor and aromas, and predisposes the sake to time in the bottle.
In recent years, the junmai types have grown in popularity, but the non-junmai types have been a bit maligned, unfairly so in the opinion of many, myself included. Those that are anti-added-alcohol say they can taste it, it gives them a hangover, it is somehow cheating, and other unfounded arguments. While a rant is not the aim of this article, the topic is one about which many in Japan feel passionate.
However, interestingly, in blind tastings many ostensibly dedicated junmai fans will choose non-junmai sake over junmai sake. This I have seen again and again. But like I said, this is not intended to be a rant.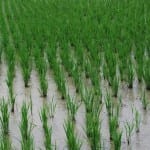 Beyond the untenable arguments above, though, there are a couple of valid positions. Namely, whether or not sake is made from rice, and whether or not the ingredients are domestically sourced. For example, brewers must list on the label the source of rice. They are permitted to use imported rice (very, very few do, and only for very, very cheap sake), but in the ingredients list it must say "domestic rice" or "imported rice." The same stipulation is not, however, applied to added alcohol.
Almost without exception, the alcohol used when making non-junmai sake is roughly distilled from sugar cane, imported into Japan, and then distilled again for purity. By the time it gets to the brewers it is pure ethyl alcohol, blended with water for safety reasons. So it is not made from rice, and it is not from Japan. To have a product like sake – the national drink of Japan – which is known as a rice-based product – be made with something other than rice, and other than Japan-based ingredients can be a sore point with some folks.
Again; not me. I enjoy sake completely unfettered from such concerns. Perhaps I am just a hedonistic simpleton. But I digress.
So yes, junmai types are growing in popularity in Japan, but so is an understanding of the very positive aspects of added alcohol sake.
And related to all of this: I recently saw in an industry publication a very interesting idea that has arisen of late.
In order to make premium sake, inspected rice must be used. Inspection ensures certain levels of quality in the rice, which will vary from rice to rice. And in any event, rice in general is just expensive in Japan.
But what if the alcohol used for making non-junmai were to be distilled from really, really cheap rice – broken stuff or rice that did not pass inspection. Again, since it is taken down to being pure ethyl alcohol, the quality of the original rice should not matter.
Surely this is more expensive than sugar-cane based alcohol. But the other side of the coin is that by using this, the entire product can be rice based, and one hundred percent domestic. Surely this will help the agricultural sector as well, since even schlock rice has a use.
What I am curious about is, if premium sake were to be made using added alcohol, but that alcohol was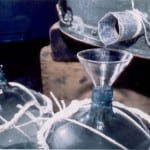 made from domestic rice, would the junmai jihadists concur on its validity as sake? Certainly the quality would be there, or at least, there is no technical reason it would not be so. If so, the idea holds potential for the sake world in bringing non-junmai types back to the fold, and the rice-growing industry would benefit as well.
Making non-junmai using alcohol distilled from domestic rice, even domestic schlock rice, would not be cheap. Surely it would be more expensive than using imported sugar-cane based alcohol. But just as surely there is a market for such products.
And, equally as surely, there is a sector of the market that does not care, only cares about price, enjoys cheap sake – and deserves to have it. So to insist all sake be made in that way would not be fair to all brewers or all consumers. But I see a compromise.
What if cheap sake were to continue to use imported ethyl alcohol and premium sake, i.e. honjozo, ginjo and daiginjo, were to be limited to added alcohol made from domestic rice? This could be indicated on the label, just like the source of the rice.
While I think this is a great idea, it is clear there would be humongous challenges. It would be hard to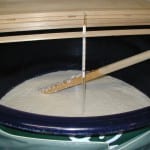 regulate or enforce. Brewers might be reticent to try this for a handful of reasons, from technical to image-related to economic. Many consumers might not be convinced, won over, or trusting. They may choose to stick with their junmai-only mentality – which of course is their prerogative.
Furthermore, sake brewers are – for the most part – an intelligent lot. Something tells me that someone somewhere along the line has thought of this. If it has not been realized, there must be a good reason. As an indication of this, there are a few brewers that distill their own junmai-shu and use that as the alcohol they add to their sake. So some experimentation has taken place, but nothing remotely resembling widespread adoption.
Finally, as almost all premium sake that is exported is of the junmai varieties, this is not a problem that will resonate with many. It is not exactly rocking the sake world. It is, however, an interesting potential solution that may present opportunities to a handful of challenges at once. It will be interesting to see how it all plays out over the next few years.