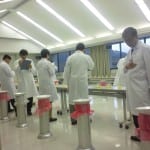 The government in Japan, in particular the National Tax Administration, monitors trends in sake preferences amongst consumers, as expressed by trends in sake production. The results of the analysis of data from last year's sake was released a short while ago. While it is nothing shocking, it is interesting to see how things change. Here are a couple of tendencies culled from that slurry of data.
Drier junmai-shu
Junmai-shu continues to grow in popularity, although not as fast as a few years ago. But it has also continued to become drier on the average.
Richer sake
Junmai-shu also has a higher amino acid content than other types, not surprisingly. But all sake in general is getting richer, as measured by a higher average amino acid content.
Increased levels of ethyl caproate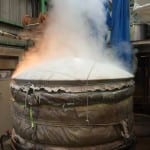 Again, hardly surprising, but the level of the ester ethyl caproate, which leads to aromas like ripe apple, tropical fruit and licorice or anise, has been on the increase. Curse it. This is hardly surprising considering that ginjo and daiginjo continue to grow very strongly in popularity.
Decreasing alcohol content in futsuu-shu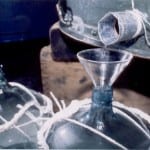 Non-premium sake has seen a decrease in alcohol content overall. Ginjo et cetera has seen alcohol levels stay fairly high, likely for increased impact, but in non-premium futsuu-shu alcohol has dropped a bit on the average. I am not sure what the significance of this point is, though, nor was it elucidated upon in the government report.
While most of these mini-trends are predicitble extensions of sake's growth and popularity these days, it is fun to check the pulse of sake from time to time.