John Gauntner is recognized as the world's leading non-Japanese sake expert. Originally hailing from Ohio, he worked in his original vocation as an electrical engineer in Japan before fate pulled him, although hardly kicking and screaming, into the sake world.
A longtime Japan resident, he both speaks and reads Japanese fluently, and is well known
among sake brewers and others within the sake industry as the window to making sake popular outside of Japan. He wrote the Nihonshu Column in the Japan Times (Japan's most widely read English language newspaper) for eight straight years. Many of those stories are archived here. He then wrote a weekly column on sake in Japanese for the Yomiuri Shimbun, Japan's and the world's most widely distributed Japanese newspaper. He now writes a monthly piece for the Tokyo Metropolis magazine, and has published five books on sake. His last book entitled "Nihonjin mo Shirenai Nihonshu no Hanashi" (Things About Sake Even Japanese People Don't Know) was published in Japanese in 2003 by Shogakkan, and is available at bookstores everywhere in Japan.
Known as "The Sake Guy," John has been quoted and/or mentioned in sake related articles in countless publications including The New York Times, Newsweek, Forbes, Business Week, and Rolling Stone. He has spoken at Harvard, Yale, and Columbia Universities, Wharton School of Business, and countless other venues across the US and Japan.
John is the only non-Japanese certified Master of Sake Tasting in the world, and has also achieved the very difficult Sake Expert Assessor certification from Japan's National Research Institute of Brewing. No other non-Japanese in the world has both of these certifications. Learn more about them here.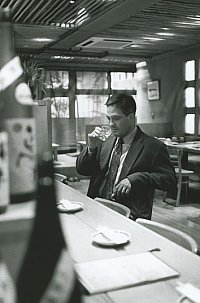 John also re

ceived the Sake Samurai award in 2006, the first year it was awarded. The "Original Sake Educator," John has educated hundreds of sake professionals through his Sake Professional Courses, including the owner/operators of many of the sake-centric stores in the US, Germany and other locales. He has written five books and hundreds of articles on sake (see Articles & Books), and publishes a free monthly newsletter and offers various digital products that make sake easily understandable. Learn more about John here. .
He is the only non-Japanese member of the Ginjoshu Kenkyu Kikou (Ginjo Sake Research Group), and is the only non-Japanese to have participated as an official taster in a prefectural government tasting, as well as the only non-Japanese to provide regular sake-related consulting assistance in the form of lectures to the Government of Japan. He is the only non -Japanese to sit on the panel of the Award for the Promotion of Japanese Cuisine Overseas, an award assessed by the Ministry of Forestry and Fisheries in Japan. He is also the only non-Japanese to have won the "Kikizake Meijin" (Accomplished Sake Taster) award, presented by the Junsui Nihonshu Kyoukai (Pure Sake Association) for accuracy in sake tasting skills, an award he has won three times, in March 2001, March 2003, and March 2006. He serves as the chairman and chief non-Japanese tasting panel member of the International Sake Challenge held in Tokyo each year. Furthermore, he is the only non-Japanese to ever take (and subsequently pass) the "Kikizake Seminar" (Sake Assessment Seminar) administered by the Nihon Jouzo Kyoukai, or Brewing Society of Japan, the organization that, among other things, provides the majority of yeast strains to the brewing industry.
John also holds monthly seminars in Tokyo in English for the expat community, or those just passing through. Each summer and winter, he runs the Sake Professional Course, a week-long intensive sake study course, held in Japan in the winter and the US in the summer. Graduates of that course include the owners of all three of the sake-only retailers in the US, True Sake (San Francisco), Sake Nomi (Seattle) and Sayaka (New York City). Most of each winter he is traveling around Japan, visiting breweries regularly and constantly learning. Other efforts at educating and edifying about sake include a free monthly sake newsletter and various digital products and e-books available for purchase and immediate download in the Educational Products section.
John is available for seminars on sake, as well as consulting on sake-related projects. Interested parties please contact John directly.


Books on Sake by John Gauntner Click book image to purchase from Amazon.
The Sake HandbookPublished by Charles E. Tuttle (the quintessential English-language publisher of Asian topics), this book is a must for the sake neophyte, the sake connoisseur, and everyone in between! Click here for more details..
The Sake CompanionPublished by Running Press Book Publishers, the newest of the sake books on the market. Sake history, an overview of production, sake culture, and 147 great sake are covered in this book. Click here for more details.
Co-author of Sake: Pure & Simple, published by Stone Bridge Press, this book is a handy guide to and friendly history of Japanese sake. Written in collaberation with Frost Griffith. Click here for more details.


NIHONSHU NO UMAI OTONA NO IZAKAYA
Translation: Tokyo Sake Pub Guide
Sake Pubs with Good Sake for Grown-ups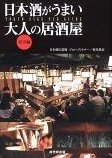 by John Gauntner & Akihiro Yorimitsu
Published by 戎光祥出版 in Dec. 2005
Paperback – 117 pages
ISBN-10: 490090161X
ISBN-13: 978-4900901612
Dimensions (inches): 21 x 14.8 x 1.4 cm
Available directly from John Gauntner at a sale price of $15.00, shipping included. Introduces 40 sake pubs of ambiance, feel and focus. If you ever visit Tokyo, this is all you need. Written by myself (the English bits) and Akihiro Yorimitsu (the Japanese parts). Order your copy from Gauntner via his Paypal page.
Click Here To
Buy Book from
Sake-World.com

GAUNTNER'S SAKE-RELATED ACTIVITIES
John holds monthly seminars in Tokyo in English for the expat community, or those just passing through. To receive automated email noticiation

s about upcoming seminars and events, join the Event Notification Email List. John is also available for corporate sake seminars. A wide variety of formats are possible: in-house, at a sake pub, with food, without, with lectures on a variety of sake-related topics. Please contact John for more information.

Each winter, John runs the Sake Professional Course, a week-long intensive sake study course, held in a sake brewery.

Writes and publishes the free monthly Sake World Email Newsletter and offers various digital products for purchase and immediate download in the Educational Products section. Most of his past newsletters are archived here.

Columnist for The Japan Times. From the fall of 1994 until the fall of 2002, John wrote a twice-monthly column in the Japan Times, Japan's largest English-language newpaper. Over 200 articles covered all sake-related topics, from techinical brewing, to culture and history, to recommending and reviewing sake pubs in Japan, with a sake recommended and reviewed in each column. Many of these articles are archived here.

Author of four books on sake. Details here.
Founding member of www.esake.com, an online web service devoted to bringing premium Japanese sake to the USA market and elsewhere.

Operates this site (www.sake-world.com), the home to tons of information on all things sake.
TEL/FAX:
(81) 467-23-6895
ADDRESS:
1-4-4 Jomyoji
Kamakura-shi
Kanagawa-ken 248-0003
EMAIL JOHN:
Click here