Please consider helping the people of Japan overcome the current crises. Your donation will help and will be felt. Below are a few of the options you have for contributing.
Thank you,
- John Gauntner
How to help:

Helping affected breweries
If you want to help the sake breweries directly affected by the earthquake and tsunami, this is likely your only option.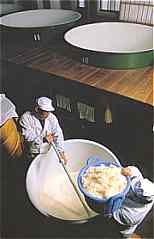 The JSBA (Japan Sake Brewers Association) has set up a system to help affected brewers, but until the Junior Council (the group supporting the Sake
Samurai program) set this up there was no way for us normal folks to contribute to this specific fund. Now there is.
In the words of the JSBA Junior Council: We would like to express our sincere condolences to all those who have lost family and friends in the earthquake and tsunami of Tohoku-Kanto.The Japan Sake Brewers
Association Junior Council established the donation account on Paypal to help those who had struck by the earthquake and tsunami. We appreciate all your support for us to help the victims.

If you were a JET, as I was, then consider this option:
Official National JETAA USA Fund Established
Here is that link.
Other Options
a whole range of other organizations and options can be found here, at my
friend Mark Schumacher's site. And you can learn a lot about Buddhism there too!
Non-financial help: Prayers and good vibes will be felt as well. Also, help stem absurd aversion toward Japanese products, be they sake or otherwise, that might arise related to events that took place here. Finally, drink lots of sake. Especially Tohoku sake. While this may seem like a joke, it is not. All supportive efforts will help!