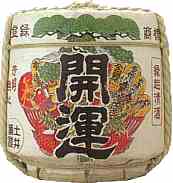 On this page:
Where in Tokyo
Where in New York City
Where in Seattle
Where in San Francisco
Where in Philadelphia
Here we introduce great sake stores in Tokyo. In the coming months, we plan to expand and update this section to include more Tokyo establishments, as well as cities throughout Japan and then worldwide. Look for frequent updates to this page, and as it grows, we will include a friendly city index to help you quickly locate great sake stores in your area (and in major cities worldwide).




John Gauntner is a founding member of www.esake.com, an online web service devoted to bringing premium Japanese sake to the USA market and elsewhere. Premium Japanese sake is now being sold in 28 states in the USA.

Aji no Machidaya
Purveyors of hard-to-get sake, and a lot of brands that have become recently very popular. Perhaps the most eclectic, interesting selection in town. The store is not as far away is it sounds. Machidaya takes excellent care of their wide selection of sake with well refrigerated storage rooms. To get to Aji no Machidaya, take the exit for Yamate-dori at JR Higashi Nakano station (two stations from Shinjuku). Cross Yamate-dori and enter the shopping street called "Ginza -dori." This runs into Waseda-dori; cross over this and continue straight just to the right of the police box. This road will wind left and right and up and down a bit, and after five minutes or so there will be a road angling off 45 degrees to the left, with another police box on the corner. Follow this road for about five minutes, and Machidaya will appear on the left. With the plethora of sake bottles out front, you cannot miss it. There is a simple map on their web page as well. Nakano-ku, Kamitakada 1-49-12. 03-3389-4551. Open 10:00 ? 18:30, Closed Tuesdays.

Hasegawa Sakaten
Responsible for making many of today's very popular ? and outstanding ? sake available in Tokyo. Note their new, much more accessible Azabu-Juban shop three minutes from the station. From Nishi-Ojima Station on the Shinjuku line, your best bet is to take a taxi. Hasegawa Sakaten is open from 10:00 to 8:00 pm, closed Sundays and holidays. Koto-ku, Kitasuna 3-24-8, (03) 3644-1756. A map for the driver can be found here. Also find their Azabu-Juban store at Azabu Juban 2-2-7, 03-5439-9498, and the map here. , there store and tasting bar in Omotesando Hills, and even more wonderful is their newly-opened store and tasting bar inside in the GrandSta shopping center near the Gin no Suzu waiting area within Tokyo Station. Yes, right inside Tokyo Station. An EXCELLENT selection in a very convenient location.

There are many others! Also, check out the major department stores around the Yamanote line: Seibu and Tokyu at Shibuya, Odakyu and Keio at Shinjuku, Seibu and Tobu at Ikebukuro, as well as Matsuya in Ginza. All have fairly substantial sake selections.



(Last Update: February 8, 2008)
Where To Buy Sake These Days...
My, how time flies. I have not updated this page in so long that it is painfully outdated. Please see the newest and best places to buy sake in Tokyo and the US, in particular, San Francisco, New York, and Seattle.



SAKE & FOOD

Top Page


Flavor Profiles


Where to Buy It


Pub Guide


Flavor Pie



IN TOKYO, SAKAYA KURIHARA
A great effort by this lively and friendly family to accommodate the many English speakers in the area. Explanations and English tags, as well as a bilingual pointing chart. Great selections.

Address and Contact Numbers:
Moto-Azabu 3-6-7. Tel 03-3408-5378. Open 10am to 9pm, except Sundays and holidays. Directions: From Hiro Intersection outside Hiro Station on the Hibiya line, go up the hill toward Arisugawa Park. You will pass a police box, and then take a right about 100 meters beyond that, where there is a small tobacco shop on the corner. If you pass the Chinese Embassy you'e gone too far. Walk about seven minutes down that street passing another entrance to the embassy on your left. At the bottom of that gentle downward slope, Sakaya Kurihara is on the left. There is a big sakabayashi (cedar ball) and other paraphernalia out front.

KOYAMA SHOTEN
Huge selections and a lively friendly owner. Lots of shochu too. They deliver if you can convey your order in Japanese.

Address and Contact Numbers: Tama-shi, Sekido 5-15-17. Tel 0423-75-7026. Open daily 9am to 9pm, on Sundays from 10am to 7pm. Directions: From Seiseki Sakuragaoka Station on the Keio line near Hachioji, go straight o

ut the wicket, keep going and take a right onto the main street. This will dead end two minutes later into another street onto which you take a left, after crossing it. There will be a Lawsons on the side your cross over to. Walk a few minutes and take a 45-degree right just before the purple-tiled Toyota building. Two hundred meters later this hits a street and you take a right onto a blue steel bridge over a road below. Continue on this road for a few hundred meters, and Koyama Shoten is on the left, big and bold, and a purple "izake"sign in kanji, and "oyama"in hiragana.

MITSUYA
Famous for stocking good jizake for the last 20 years, at least. Pioneer for sure. Packed tiny shop.

Address and Contact Numbers: Suginami-ku, Nishi -Ogikubo Minami 2-28-15. Tel 03-3334-7447. Open 9:30am to 10pm. Closed Thursday. Directions: From Nishi-Ogikubo Station on the Chuo Line, go right out the North Exit and take a quick left on the small street of shops. Take the fourth right and then a quick left, and there it is on the right. Please double-check these directions with a map when you get to the station.

SUZUDEN
Well stocked. Be sure to go into the basement (you might otherwise miss it) where there are three r

efrigerated rooms; the colder they get the better the sake within. Centrally located.

Address and Contact Numbers: Shinjuku-ku, Yotsuya 1-10. Tel 03-3351-1777. Open 9am to 9pm. Closed Sundays and holidays.


Where to Buy Good Sake in San Francisco

As they say in "Highlander," There can be only one...

Actually, that is not true, but it does apply here. If you want to buy sake in San Francisco, head to True Sake , in Hayes Valley. The first sake-only retailer in the US, True Sake now stocks over 200 imported sake, along with accouterments and sake toys. The owner, Beau Timken, a two-time graduate (the first graduate, too) of my Sake Professional Course, knows his stuff inside, out, and backwards. He will guide you to the sake of your dreams (or budget, or need... whatever you give him to work with) in a passionate, confidence instilling way. His staff is surely the most sake savvy staff around there as well.

True Sake is at 560 Hayes Street, (415) 355-9555, info@truesake.com, and www.truesake.com. They also sell online.

Where to Buy Good Sake in Seattle

Sake Nomi

Sake Nomi means both "only sake" and "one who likes to drink sake." Located in Pioneer Square in Seattle, Sake Nomi is the nations second sake-only retailer, but here you can drink it as well. They run lots of events, from formalized tastings to bowling events to sushi nights to Bob Marley events, thus earning themselves points for diversity.

Johnnie Stroud, the husband-half of the ownership (together with wife Taiko), took my Sake Professional Course in 2006.

Sake Nomi is at 76 S. Washington Street, at info@sakenomi.us, at www.sakenomi.us, and at
(206) 467-SAKE.

Where to Buy Good Sake in New York

Sakaya

Sakaya, or "sake shop," just opened at the end of November 2007. The owners, Rick Smith and his wife Hiroko, graduated from the Sake Professional Course in 2007 with this passion in mind: to create New York City's first shop dedicated only to Japan's indigenous alcoholic beverages. And they have done it.

Their website is up as well, at www.sakayanyc.com. They are located at 324 E. 9th Street (between 1st and 2nd Avenue, closer to 2nd), NYC, 10003 and at 212.505.7253 (SAKE). (Funny how those last four digits seem so popular...)

Where to Buy Good Sake In Philadelphia

Check out the Azie, Teikoku, Flavor and Mikado/Thai Pepper at www.winsignaturerestaurants.com