…and why is it in so many sake rice names?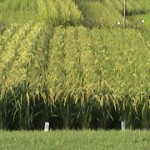 There are, at present, perhaps 100 varieties of sake rice out there. A few new ones are born (crossbred) each year, and a few fall out of production, and therefore out of official existence. And of those 100, a disproportionately high number have the character for "nishiki" (pronounced closer to neeshki) in the name.
There is of course the most famous, Yamada Nishiki. But also there are Miyama Nishiki, Hattan Nishiki, Oyama Nishiki, Kinmon Nishiki, Saka Nishiki, Toyo Nishiki and even Hakutsuru Nishiki. Then there is Misato Nishiki, Kita Nishiki, Senbon Nishiki, Tosa Nishiki, Yume Nishiki, and yet a few more nishikis out there as well. You probably get the point by now. Interestingly, this character does not make an appearance in eating rice, just in sake rice. At least, as far as I can ascertain things.
So, just what is a nishiki anyway, and what is it doing in our sake rice?
The most commonly found translation in Japanese-to-English dictionaries
is "brocade." Okay. Fine. But that doesn't really help much either. I mean, what, really, is a brocade? A similarly typical dictionary check resulted in this: "A class of richly decorative shuttle-woven fabrics, often made in colored silks and with or without gold and silver threads." Oh; okay. That helped.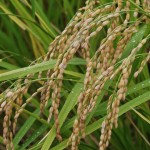 To me, a brocade is a beautiful cloth or tapestry hung on the wall, usually with some meaning involved in it – like, it represents something or has a story behind it. Kind of like a tapestry but richer in appearance. I learned a lot more about brocades in researching this, but never found out why they might be in so many sake rice names. But then I met a farmer who is also sake brewer.
Yuichi Hashiba is his name, and his brewery is Izumibashi Shuzo of Kanagawa, brewing a sake called Izumibashi. And he explained it.
Rice is planted sometime between April and June, and harvested sometime between August and October. Most sake rice is planted later and harvested later than most eating rice. Most, that is. But when harvest time comes around, be that August, September or October, one can stand on the edge of expansive rice fields and look out on the golden ears of rice that hang over in their ripeness, awaiting the sickle. Or a combine, which is more often the case these days.
When I visited Hashiba-san last fall, we strolled out on narrow lanes separating fields of Omachi, Yamada Nishiki, and Kame-no-o.
"Look out at all that," he began. "See that beautiful golden expanse of sake rice? Look at all those hanging ears! Duddn'it all just tell a story? Duddn'it look like something you could hang on a wall as a show of glory and success?" You could see by the passion in his eyes that he indeed meant it.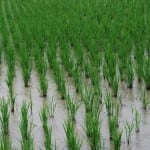 And as we gazed out upon these acres of golden ears of rice bending in anticipation, the wind blew, causing the whole scene to move in undulating, golden waves. It looked like… well, like a brocade of rice surging and swelling in gentle waves. It looked like a nishiki, actually.
All it took was one explanation with a rice farmer / sake brewer as we stood at the edge of his fields on an October evening as the wind gently blew. It was clear why so many sake rice types have the character for brocade in their names.
Being early July, it is still a couple-few months before we can see this again. But it is a beautiful scene, and one that will remind us when we see it that the next sake-brewing season is, again, just around the corner.