Happy New Year to everyone!
May 2014 bring peace, health, happiness and prosperity to you all. The first of those four is likely enough, but let us aim high for the coming 12 months.
For the first time in perhaps I decade, I spent New Year's Eve waiting for midnight to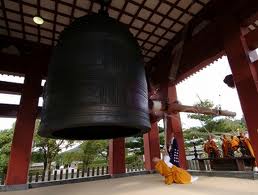 come, after which my family and I went to a local Buddhist temple (in our case, Hokokuji). I live in Kamakura, once a Buddhist stronghold in Japan, and there are at least four temples within a ten minute walk of my house. Add another ten minutes to my walking radius and add perhaps another ten temples. I can see one from the window of my office room, and hear the bells each day. And bells are why we made our way there, in the first dark minutes of the very young year.
There is a custom known as "Joya no Kane," which refers to ringing of the bells at a temple, traditionally 108 times, one for each of mankind's worldly desires that cause us suffering. Things very from place to place, but many temples will allow us layfolk to stand in line and ring it once time to rid us of our wordly passions and purify us for the upcoming hear. My family lined up in the cold for our turn at one meditative moment into which much significance, prayer, and positive energy are channeled.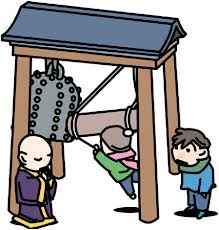 A brief prayer. A swing of the log-like implement into the large, tubular bell. We absorb the reverberations of the deep, vibrant sound, then bow gently, and turn toward home, with heightened expectations for the coming year. That, in a nutshell, is Joya no Kane.
I recall a musician friend of mine, now deceased, who tried to explain the concept of the 108 passions, known as Bonno. She embodied them unabashedly and enjoyably. All 108, I think. They are, she explained, the physical and emotional temptations that keep us from heaven, and cause us suffering on earth. "But," she added with an emphatic smile, "without Bonno, there would be no music!" Nothing has ever rang more true, no pun intended.
Some might have a Bonno to pick with sake (pun intended this time), but I will take my chances.
Again, a Happy New Year to All