Sake Confidential: A Beyond-the-Basics Guide to Understanding, Tasting, Selection, and Enjoyment
by John Gauntner, published by Stone Bridge Press, Berkeley CA
Today's sake drinkers are increasingly informed and educated. Most people that enjoy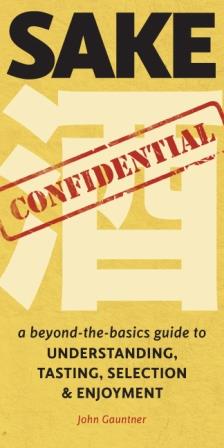 sake know the basics of what sake is, how it is made, and what the grades are. So now is the time for a more in-depth look at the various aspects of sake and the sake world that make it the most interesting beverage on the planet.
In over two-dozen short essays presented in a very informal and conversational tone, "the truth about sake" is revealed. The truth about junmai types versus non-junmai types, the truth about the impossibly detailed craft of sake brewing, the truth about temperature, premium types, aging, purity, pasteurization and regionality are all touched upon.
How the industry works, its challenges and strengths, what really creates sake flavors and aromas, specs you can safely ignore, and what hype you can safely avoid are all fair game. You'll learn what goes into sake pricing, and how brewers get their rice. How to choose sake, and how to improve your tasting ability are also part of the fun. Suffice it to say that nowhere else is so much detailed information about the realities of the sake world assembled together into one place.
The book is laid out in such a way that readers can jump around to topics that hold appeal, or read it from beginning to end. The very first chapter is a minimalist version of all things sake, after which each topic is covered in scrutinizing detail.
Sake Confidential will be available in bookstores in June; you can pre-order your copy at Amazon here:  http://www.amazon.com/Sake-Confidential-Beyond-Basics-Understanding/dp/1611720141