Happy New (Brewing) Year! BY25 has begun.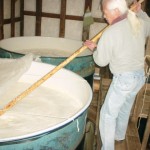 While most sake is best young, sometimes sake is aged by the kura before being released. And sometimes, we can see an indication of the year in which it was brewed. This should make it all simpler – provided we know how to read that information. The problem stems from two points: one, Japan does not use the same dating system as the West, but rather a year-numbering system based on the reign of the current emperor, and two, a given sake brewing season stretches across two calendar years.
First of all, while Japan does relate to the fact that this is 2013, officially and traditionally it is called Heisei 25, or the 25th year of the era of Heisei. A bit of a mathematical hassle, especially when drinking, but not an insurmountable obstacle.
Next, sake brewing starts in the fall of one year and ends in the spring. So, if a sake were labeled only as year 25, we would not know if it was the season of Fall '24 to Spring '25, or Fall '25 to Spring '26. These are two different years as far as brewing is concerned, and can be likened to two totally different vintages in the wine world. So, we need a bit more detail.
This point did not escape the clever folks at the ministry of taxation, who also needed a more efficient way to tax kura on their output. And so long ago they came up with the concept of the "Brewing Year," or BY. Just like fiscal years can differ from calendar years, in Japan the Brewing Year runs from July 1 to June 30th of the following year. This, then, encompasses the entire brewing season of every brewer in the country in one clean 12-month period.
So, BY24 (it might also appear 24BY) ran from July 1 2012 until June 30 2013. And sake brewed last fall and into this spring would be considered part of BY24. And, BY24 just ended a few days ago, when we entered into BY25. So, even though calendar year 25 (read: 2013) is half over, we just now started BY25.
How does this help you? Well, when you see a sake labeled, for example, BY23, you know that since Heisei 25 is 2013, this sake was brewed in the season beginning in the fall of 2011, and running into the spring of 2012. That would make it about a year and a half to two years old; not at all odd for a sake of maturity and richness in style.
Again, since aged sake is such a small drop in the bucket, you will rarely come across this. But if and when you see such mysterious nomenclature, you will know precisely how old your sake is.
~~~~~~~~~~~~~~~~~~~~~~~~~~~~~~~~~~~~~~~~~~~~~~~~~~~~~~~~~~~~~
Sake Professional Course Sake Pro Course NYC 2013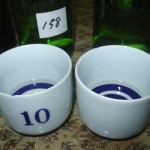 Kikizake-joko – Official Tasting Glasses
Dallas, Texas, August 8~10, 2013
The next Sake Professional Course will take place August 8-10, in conjunction with TEXSOM 2013 at the Four Seasons Resort and Club Dallas at Las Colinas in Irving, Texas
More about the seminar, its content and day-to-day schedule, can be found here.
The Sake Professional Course, with Sake Education Council-recognized Certified Sake Professional certification testing, is by far the most intensive, immersing, comprehensive sake educational program in existence. The three-day seminar leaves "no sake stone unturned."
The tuition for the course is $825. Feel free to contact me directly at sakeguy@gol.com with any questions about the course, or to make a reservation.