The yeast used in sake brewing is, with but a mere handful of exceptions, not naturally occurring yeast, but rather cultured stuff added at the yeast starter stage. Sure, it might be cultured at home, in other words, proprietary yeast strains that are kept and reproduced in house, but with just a very few exceptions it comes from an ampule, or a slant in a test tube, or some other pure preserved form. What it does not do is fall into the tank naturally, from the ambient environment, at least not in the last century or so.
The misconception that sake is brewed using the yeast that is clinging to the ceiling in the kura (brewery) is perhaps most prevalent amongst yamahai and kimoto styles, partly because these yeast starter methods were what was in use when natural yeast were the driving force behind sake, well over a hundred years ago.
But such is not the case now. However, as with everything in the sake world, there are exceptions. I thought there were none; in fact, I was sure of it. But then I ran into Furosen of Shiga Prefecture at tasting and found out there were indeed using only naturally occurring yeasts. In fact, they hadn't directly added any cultured yeast in years.
Soon thereafter, the energy or vibes of this must have traversed the ethereal web that connects all sake brewers, because I have run into it no less than four more times since then. The first of these was Kariho of Akita Prefecture. The owner-inherit, Yohei Ito, caught the bug from his friend at Furosen, and wanted to give it a try. "Yamete kure," (please, give up the idea) came the reply from the toji. "It's too risky."
Ito-san would have none of it, and made a couple of tanks of yamahai and added no yeasts.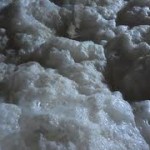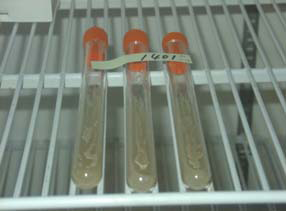 The moto naturally bubbled up at the prescribed time, bright-eyed and bushy-tailed. When they had the foam analyzed, they found there were two dominant yeasts: No. 10 and AK-1, both strains that are very, very commonly used in that kura.
Which is the point. It is a lot less random than you might think, since in a sake brewery the yeast hanging around in the air and (ostensibly) on the rafters is for the most part the stuff that has been being burped off of the yeast starters and fermenting mashes of the countless tanks made in that environment.
In fact, Kenbishi, one of the most storied breweries in the country and about the 15th to 20th largest maker uses a bit of cultured yeast at the beginning of a season, but then that's it: the rest of the year they depend on the environment they have created and maintain, as all the yeast from then on out comes from the ambient environment. I had long ago heard it but chalked it up to urban myth of the sake world, until it was verified recently.
Then, there is Philip Harper, the toji at Kinoshita Shuzo in Kyoto, and the brewer of Tamagawa, made a tank of natural yeast kimoto. He did this the first year he was at his new kura of employment. Talk about guts and confidence!
It was intended to be a one-time deal, but has become one of the best selling products of that company.
Lastly, or most recently anyway, was Sugii-san of Suginishiki in Shizuoka, who lately has been into yamahai and kimoto style brewing to augment his already sharp, tangy style. His, too, was successful. But interestingly, he had different theories on where the yeast came from.
"Rafters, schmafters," he began. "It sticks to the tools; to the poles you mix with, and to the dakidaru you use to adjust temperature." Dakidaru are aluminum or traditionally wooden cans holding maybe ten liters (two gallons) of either ice or hot water put into moto (yeast starters) and mixed around to make the day-to-day single-digit temperature adjustments called for in some moto.
"No matter how well you wash 'em," he continued, "you have some yeast clinging to those tools. And as you put them in and out of the various moto, the yeast gets transferred. You only need a bit, and the conditions of the moto take over from there."
Rafters, shmafters, or tools, tools, one place the yeast is not coming from on his batches is little ampules or test tubes.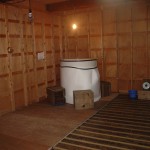 Beyond the above pioneering examples, there are a handful of other sake made this way. Certainly not enough to call it a trend; not even close. There is far too much predictability and goodness that result from precise selection of yeast strains. But while a scant few years ago there were but one or two, there are perhaps a dozen or more making at least some of their sake this way.
So: how do they taste?
All are deep, fairly indicative of the yamahai or kimoto styles, with sufficient gaminess and breadth, but surprisingly not nearly as idiosyncratic as one might expect. All are fairly true to style but nothing about having used drop-in yeast made them lean too weird in any one way.
Why do many feel these methods are risky? Because in truth there is no guarantee that the winning yeast will be what you want it to be, nor any that there is enough of that in the environment (or on the shmools) to make it all work. Or it might take its jolly old time, and not function on a predictable schedule (nature is like that), screwing up everything else on down the line. Nor can one ensure as much precise control over the style of the sake, left up to the whims of the cosmos as it is. It is much easier to get aimed-for or desired aromas, acidities, or flavors if you specifically choose your yeast and create environs within which the chosen ones flourish.
And this is why so few do it, and with the exception of Kenbishi, for just a tank or two. Surely there are more out there, but it is hardly widespread. And four small and one large brewer does not a critical mass make, so I do not expect things to change too drastically on this yeastern front. Beyond the aforementioned risks et al, using naturally occurring yeast is more hassle-laden and less precise, adversely affecting control over consistency.
As such, the main point here is, actually, that ALMOST ALL sake, including almost all yamahai and kimoto sake, is made using cultured yeast, and not naturally occurring drop-in yeast. It may be proprietary, but most of it is cultured and added.
                                             酒 酒 酒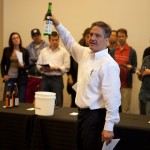 The next Sake Professional Course will take place in San Francisco on December 8 to 10. There are about five seats open still! Learn more here.
Meanwhile, the next Sake Professional Course in Japan will take place January 26 to 30, 2015. Learn more here.
Feel free to email me with questions about either!
                                                     酒 酒 酒
- See more at: http://sake-world.com/wordpress/#sthash.m5a6uLig.dpuf