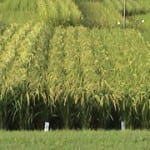 Yamada Nishiki. One cannot tread far into the sake world without encountering the name of the most important sake rice in existence today. Yamada Nishiki.
It is the "king of sake rice," there is no challenger in sight. It is the best choice for top-grade sake for a handful of reasons, and it is as expensive as it deserves to be. Yet, while it is admittedly deserving of its reputation, it can be a bit "in your face" sometimes. Yamada this and Yamada that, yada yada yada. (Yamada yamada yamada?)
But, what is it, really? What is behind its fame and success? From whence did it come and when? What, f'gad's sake, is the big deal? I mean, it's rice, right?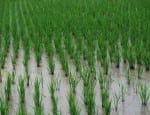 Indeed, it is just one variety of sake rice, of which about one hundred exist today. And it is the most grown sake rice, with about 1000 of the 1200 kura in Japan using at least some. But note, it is not by any stretch of the imagination the only game in town. There are plenty of other sake rice varieties that are interesting and lead to outstanding, deliciously enjoyable sake. The point of this article is not to worship Yamada Nishiki nor to idolize it, but to present some background as to what it is and why it is.
Taking a half-step back, let us recall that sake rice is as different from table rice as good wine grapes are from the fruit we buy at the grocery store. It is larger, has less fat and protein, and more starch which is centered in the grain, thus allowing the offending components to be more easily milled away and removed from the equation.
Most sake, in fact, is not made using sake rice. The 65 percent of the market that is non-premium (if enjoyable!) sake is made using much less expensive table rice, i.e. rice for eating. And much of that is perfectly enjoyable sake. Even some premium sake is also made with table rice; it is possible to make very decent sake from such rice.
However, the truth is that it is immensely easier to make good, tasty sake from proper sake rice. And not only is most premium sake is in fact made using sake rice, but in order to make great sake you must have great, proper sake rice. End of story. Full stop.
Furthermore, the better the sake rice the easier it is to make good sake, and great sake. Even within the realm of sake rice – and even within the realm of one variety of it – there are greater and lesser producers, harvests, regions, fields and grains.
Better might mean larger, more starch and in a manageable position and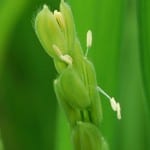 a manageable size  within the grains, solubility that is just right, and more. Of course, price will vary with that quality, and the quality of the grains in even one single field will vary too. (They will be separated by size and other criteria, and a good or great field will have more great grains than a ho-hum or mediocre one.)
So wuzzup with Yamada Nishiki? Yes, it is big, even for sake rice. And it has an ideal-sized and centered starch center (known as a shimpaku, which means "white heart") enabling it to be easily milled so as to remove the fat and protein and leave the starch behind.
During fermentation it dissolves readily – but not too readily. It is harder to grow than regular rice, but not nearly as challenging as some other types of sake rice. And, of huge importance, it is predictable. Brewers know how it is going to behave – or at least, a bit more so than with other rice types. One reason for this is that it is so widely used that there is data out the wazoo.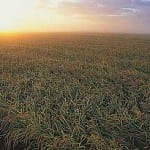 What does sake made with Yamada Nishiki taste like? It has breadth and depth, and flavor that billows into the expanses of one's palate. It has a wide range of flavors that somehow work together well, often with ideal levels of sweetness and umami. However, it is extremely important to remember that the range of flavors and aromas is massively wide, since in the end rice is only half the story. The way the brewer manipulates, directs and coaxes the rice through the production process is, as they say, "the rest of the story."
Just like any agricultural product, each variety of sake rice grows better in some regions than others, and has climates and soil types within which it thrives. Often these can be small and vary with just a short distance. And the best Yamada Nishiki undoubtedly comes from Hyogo Prefecture in western Japan, within which sits the city of Kobe.
Even within Hyogo there are regions, villages and even plots of land that yield superior Yamada Nishiki rice. And the two best villages in the region, country, world and Universe for Yamada Nishiki are Yokawa and Tojo. If you remember two place names related to top-notch Yamada, let it be those: Yokawa and Tojo. But as is always the case with sake, it's not that simple.
Yokawa is a township in the city of Miki in Hyogo Prefecture. However, Tojo no longer exists, at least not officially. (So, yes, you are being asked to remember the name of a place that no longer exists. Ain't sake fun?)
Tojo was a region that was annexed during a spate of consolidation of sparsely populated municipalities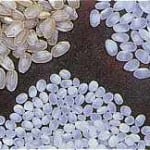 that took place in Japan a few years back. So now, what was the township of Tojo is currently the city of Kato. However, the Yamada Nishiki from Tojo was so damn good that it had branding power. So the growers of the region formerly known as Tojo banded together and registered "Tojo-grown Yamada Nishiki" as a registered trademark. So Tojo-grown Yamada Nishiki exists even if Tojo itself no longer does. Ain't sake fun?
Why does it grow best here? A veritable plethora of reasons! The soil is rich in minerals. The climate is perfect, and the Rokko mountain range to the south isolates the area just enough to make the difference between daytime and nighttime temperatures significant, which sake rice prefers since this climactic condition helps the starches accumulate in the center of the grain.
Yokawa-cho in particular is high in elevation, and the growers there use rice fields cut into the mountainside like a set of descending shelves, which lets the water flow down through the fields smoothly.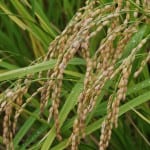 From whence did it come? Yamada Nishiki was created in 1936 as a crossbreed between two other rice strains, one being Yamadaho. This was also a great sake rice, but was too tall and lanky and frustratingly difficult to grow. So the prefectural agricultural research center at that time (which has since morphed into a broader organization but still exists in spirit) crossbred it with a shorter, sturdier sake rice called Tankan Wataribune. This made the progeny that became Yamada Nishiki more manageable and better in many ways.
Sake rice can be shipped all over the country, and brewers from northeast to southwest seek Hyogo-grown Yamada Nishiki for their top grades of sake. Not all, mind you, but many. However, Yamada Nishiki is also grown in many other places in Japan, some almost as well as Hyogo. In fact, 33 of Japan's 47 prefectures grow at least some Yamada Nishiki, although a full 60 percent of all grown comes from Hyogo.
Interestingly, though, Yamada Nishiki seeds have never officially left Hyogo Prefecture. This is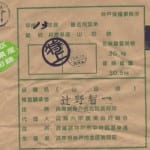 significant because, in order to put a premium grade of sake on the label, a brewer must use rice that has passed a certain level of inspection. And in order to have rice inspected, the rice must be registered with the local authorities, and the seeds must also be sourced from a proper source. It is all a bit gray, sometimes even to sake producers.
So if the seeds never left Hyogo, how do other prefectures know that what they have is the real thing? And why do other prefectures recognize it? Hm. Not sure about that. Let's chalk that up to the mystique suffusing this venerable rice and sake in general.
Also, credit must be given to the largest sake brewers in the country, the current-mass producers of sake in the Nada region in Hyogo. It was they that drove the production of this standout rice from the start. When their technology began to help make decent sake with less expensive rice, Yamada Nishiki became more available to the rest of the sake industry. As is too often the case, their significant role may be unappreciated.
All of the above combines to create the legend, the reputation, and the mystique that surrounds and suffuses Yamada Nishiki. So next time you come across it – and that should not be long if you drink sake on anything remotely resembling a regular basis – bear in mind it is not just another rice. It's Yamada Nishiki.