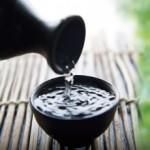 Several municipalities and one prefecture have recently put into effect actual legal ordinances  dictating that if you say "kamapai!" it must be with sake (or in one case, shochu, Japan's indigenous distilled beverage).
The municipalities are: Kyoto (the first to do so!), Hakusan in Ishikawa Prefecture, Minami Aizu in Fukushima Prefecture, Higashi Hiroshima (wherein sits the brewing town of Saijo), the whole of Saga Prefecture, the whole of Kagoshima Prefecture (for shochu, not sake!), and Nishinomiya in Hyogo, where it will be made official on "Sake Day 2013," October 1.
All are prominent sake-brewing regions. On top of that, two small villages in Hyogo known for growing some of the best Yamada Nishiki in the country have also enacted such ordinances. Other places are expected to follow.
Kyoto, where it all started, explained that the purpose was to spread sake and its culture, and that no fines or  strong-arm enforcement would occur.
It has been all too common over the decades in Japan to start with a beer for the initial "kampai" or call of "cheers," and then move on to sake. Hopefully, these ordinances will playfully but effectively move people back to toasting with Japan's gem of gems, sake. (And shochu in Kagoshima!)
~~~~~~~~~~~~~~~~~~~~~~~~~~~~~~~~~~~~~~~~~~~~~~~~~~~~~~~~~~~~~~
Dallas, Texas, August 8~10, 2013
The next Sake Professional Course will take place August 8-10, in conjunction with TEXSOM 2013 at the Four Seasons Resort and Club Dallas at Las Colinas in Irving, Texas.
The course has checked in full! 満員御礼!However, a couple of cancellations are expected, so if interested, please do send me an email as soon as you can.
More about the seminar, its content and day-to-day schedule, can be found here.
The Sake Professional Course, with Sake Education Council-recognized Certified Sake Professional certification testing, is by far the most intensive, immersing, comprehensive sake educational program in existence. The three-day seminar leaves "no sake stone unturned."
The tuition for the course is $825. Feel free to contact me directly at sakeguy@gol.com with any questions about the course, or to make a reservation.