A Snapshot of the Sake Industry
As it is today: Statistics and Politics
In a change of pace from the technical – cultural – historical topics most commonly covered
here, let us look a snapshot of the sake-brewing industry in Japan, the stats that surround it, and the politics that suffuse it.
In short, the sake industry in Japan is not exactly thriving. Yet things of recent are at least a smidgeon better than they were. Unless they're not.
Statistics. We all know the clichés surrounding statistics. They can indeed be confusing.
For example, if I look at the statistics for the sake brewing community published in industry rags, there are just tons of 'em. We have stats for calendar years (January to December), fiscal years (April to March) and "Brewing Years", a period unique to the sake world that runs from July 1 to June 30 of the following year. Then there are monthly statistics as compared to the same period last year, and year-to-date stats as well. Some go up, some go down, they often contradict each other, and lead to radically different interpretations.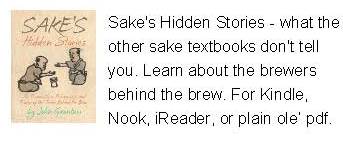 And all of these exist for each prefecture, and each major region in Japan as well. Furthermore, they are broken down for cheap sake and premium sake too. While each statistic is in and of itself significant to somebody somewhere, taken together they are just overwhelming. What's a budding analyst to do?
Cutting to the chase, the sake industry overall was in decline for 16 straight years before rising a whopping one percent last year. But the upward trend has seemingly continued into this year, although not every prefecture was up every month. I then read that demand was mysteriously lower this fall, the period when sake usually sells the most. Yet, year to date numbers are still up for 2012 as a whole.
Next, the big talk is how the larger brewers are not raising prices due to price wars on their cheapest sake, sold in 2-liter boxes to the supermarkets. As such, revenues are way, way down. If volume is up but revenues are down, things cannot be said to be improving.
And, since 75% of the market is inexpensive sake, these things cannot be ignored. But the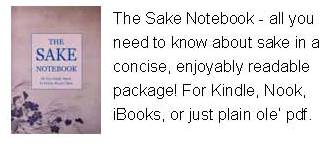 numbers for premium sake (junmai-shu, and the four classes of ginjo-shu, but NOT including honjozo-shu) are up an average of 5% almost without exception. Which is good news… right?
In the end, all we can do is take a bird's eye view and assess things in the broadest terms, using statistics over the longest term. And things do, from that vantage point, seem to be subtly improving.
Next, a few months ago, the then-State Minister for National Policy, Mr. Motohisa Furukawa, designated sake as Japan's "National Alcoholic Beverage" and began the "Enjoy Japanese Kokushu (national alcoholic beverage)" initiative.
However, a few weeks ago, Mr. Furukawa was replaced in a cabinet reshuffle. Will his replacement, Mr. Seiji Maehara, pursue the sake-aid initiative with the same requisite alacrity? Hard to say. But also, even if he does not, it seems like at least some momentum for the program has been created. Let us hope that that has some positive effects.
Then there is "Special Clause 87." This is a clause in the alcohol tax laws that gives a significant tax break (it began as 30 percent but was gradually decreased) to smaller brewers in the industry (read: 90 percent of the brewers!). It was meant to be temporary, to help smaller brewers modernize their equipment and infrastructure. And it has been repeatedly extended but is due to expire at the end of this year.
Now, the Japan Sake and Shochu Makers' Association is appealing to the government to make that permanent, and to return it to its erstwhile 30 percent. If it is not extended again, some say a third or more of the industry could disappear overnight. While it means about five billion yen (about $62.5M US) less revenue for the government, it also helps local economies to come closer to thriving. It is expected to be at least extended, but one never knows until all is said and done. Let us cross our collective fingers!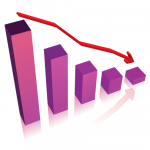 As an aside, there are currently just under 1300 sake breweries in Japan. However, less than half are reasonably profitable!
On the somewhat brighter side, exports are doing very well, up 14 percent on the year. However (and there is always a "however") this accounts for only about two percent of all sake produced. Compare this with about 30% of the wine of France and Italy being exported. If the industry is to return from the brink of continued contraction, then domestic consumption has to improve too!
And so, at the end of the day, what does this snapshot of the industry reveal? In an nutshell, it seems that the winds have indeed begun to shift in a more positive direction for sake. But until those winds blow strongly enough to clear out the fog, it may be a bit too early to break out the sparkling sake.
~~~~~~~~~~~~~~~~~~~~~~~~~~~~~~~~~~~~~~~~~~~~~~~~~~~~~~~~~~~~~~~
Announcing the 10th
Sake Professional Course
to be held in Tokyo Japan, January 21 – 25, 2012 
From Monday, January 21, until Friday January 25, 2013, I will hold the 10th Japan-based Sake  Professional Course in Tokyo, with a side trip to the Kyoto-Osaka-Kobe region. This is it: the most important thing I do all year, and beyond any doubt the best opportunity on the planet to learn about sake.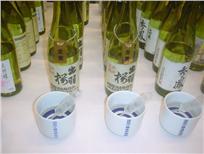 e" No Sake Stone Remains Left Unturned" is the motto, and "exceed expectations in that" is my goal.  If you want to learn all you need to know about sake to function consummately as a sake professional at work, or if you are simply a sake lover with an insatiable appetite for sake-related knowledge, then this is the course for you.  The course is recognized by the Sake Education Council, and those that complete it will be qualified to take the exam for Certified Sake Specialist, which will be offered on the evening of the last day of the course. Go here for more information. To reserve a spot, send an email to sakeguy@gol.com .