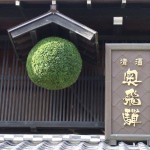 There are certainly a great number of symbols in the sake world; images and artifacts that evoke perfectly Pavlovian pangs for a glass of good sake. It might be a blue-dyed curtain hanging in front of a sake shop, invitingly waiting to be parted by your own hands as you enter. It might be the rising smell of yakitori (grilled chicken on skewers, a standard sake accompaniment) or just the right fruity or flowery essence reminiscent of a good glass of ginjo. Or, it might be a sugidama, arguably the oldest and most often-seen sign of where sake is to be found.
Certainly you have seen them hanging around (pun intended): green or brown spheres of tightly bound leaves suspended by a cord, dangling in front of sake shops and pubs. A quick glance at the photos here should evoke a "Oh, those things! Yeah; I've seen them…" response from many readers. While in the past, they might have only been visible in Japan, now many shops outside of Japan sport one out front as well, and certainly we can see images of them all over the internet.
Sugidama originated in the Edo Period (1604 to 1868), and have taken many shapes and sizes over the past centuries, sometimes appearing more like bales or bound stalks of thin branches. As the pictures here show, they are always spherical these days.
What are they, these sugidama? Also known as sakabayashi, they are – as they appear to be – balls constructed of the needle-like leaves of the sugi, or Japanese cedar tree. (The more precise name for this tree is, actually, cryptomeria, and it is botanically closer to cypress than cedar, although it smells damn like cedar to me.)
The sugi holds religious significance in the Shinto religion, particularly in connection with a shrine named Miwa Jinja in Nara Prefecture, wherein resides a deity related to sake. Although today not all sugidama are made from sugi boughs from this shrine, it certainly is one traditional source.
Possibly related to that religious influence, it was in the past said that if the needle-like leaves of sugi are soaked in sake, that sake will not go bad. But there is more to the story than that.
Until about 60 years ago, tanks for sake brewing were made of this wood, (now they are ceramic-lined steel) as are the casks called taru in which sake was formerly shipped (before bottling came along), and the small boxes called masu traditionally used for drinking sake (and measuring rice). And beyond these uses, the walls of most traditional koji-making rooms as well as the trays used to make koji were all almost always made from sugi.
Why sugi over other woods? There are of course a handful of reasons, but the most often presented is that sugi tends to not impart its woodiness to the sake or the koji-in-waiting.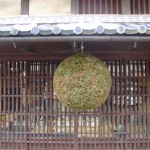 As a rule long ago, but still commonly today as well, sugidama are hung just outside the front entrance to a sake brewery immediately after the first sake of the year has been pressed (like – now!). At this point, the leaves are still green, having been recently cut and used. Over the next several months, however, the green needles slowly faded to brown. It has long been said that when at long last the color had changed to brown, the sake had aged enough to be ready for drinking.
These days, lengths of maturation vary greatly on style, region and other factors, including modern climate control. But the sugidama cares not, fading from green to brown in its own time, as it always has.
Although accounts differ subtly from source to source on the details, the above is the basic gist of the saga of the sugidama. But it has evolved in its use, if not its symbolism. Today, sugidama appear not only in front of kura (breweries), but also in front of sake retail shops, as well as sake pubs and other places serving sake all over Japan, and even a few appear in other countries as well. It is basically an enticing indication of "sake within!"
Often, I have wondered how they were actually made. My inquiries were met with, "Ya just keep stuffin' more and more sugi leaves in there, and trim it 'till it's round enough…" But only recently did I see a work in progress when visiting a brewery that was just about to press its first batch of the year.
In the old days, the experienced guys would ball up a bunch of boughs and stuff everything else into that. These days, many if not most use a ball of wire or styrofoam at the center. As you can see from the photos here, someone just sits amongst fermenting tanks with a bunch of fir sticks around them, stuffing them into a globe and trimming it to a round aesthetic perfection. I was genuinely surprised to see it was that simple.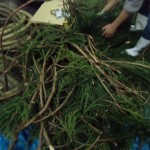 Let's get started!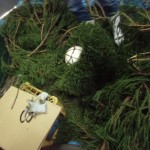 Sugidama being made…
Note the white ball of traditional styrofoam in the center. 😉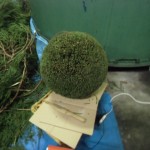 The finished product!
One of the most charming sites of winter – if you are into sake – must be a sugidama with freshly fallen snow resting on the top. If it doesn't evoke an inner warmth, try viewing it with a glass of sake. It soon will.
Learn everything you need to know about sake via concise, downloadable ebooks here!